Monthly Archives:
February 2014
The flipped learning model enables instructors to enhance the classroom experience with less lecturing and more activity.
In some ways, corporate training is leaps and bounds ahead of the education sector when it comes to the implementation of asynchronous instruction. But what can both groups learn from each other to better meet the individual learning needs of students? How can educational class time and professional training time be maximized to meet the demands of specialized instruction, difficult schedules, various learning styles, expensive travel costs, and constantly changing curriculum?
The flipped learning concept helps address these concerns by delivering all low-order content prior to the face-to-face instructional time.
Background
Flipped learning is an instructional method being pioneered in schools throughout the world. The basic premise behind the method is that direct instruction and lecture is not an effective teaching tool in the group learning space, but is effective when delivered to individuals. However, direct instruction delivered to individuals would require a teaching staff much larger than most institutions or corporations could afford, so the direct instruction is delivered using the power of easy-to-make instructional videos.
As high school teachers, we had a problem. Our students were missing too much class time due to the long travel times it took students to attend school events such as basketball games and speech tournaments. When students missed class, they missed critical content and either fell behind or came in after school to be taught the material they had missed.
During the spring of 2007 we started recording our lectures using screencasting software and putting them online for our students to watch. And then during a lunchtime conversation we began to question the necessity of us delivering direct instruction during class time. At that point we committed to prerecord all of our direct instruction and use class time for richer activities and to help our students with difficult concepts.
The most critical question when using the flipped learning model is "What is the best use of face-to-face class time?" As high school science teachers, we answered the question by allowing more time for individualized assistance on hard problems and for hands-on activities.
This question is answered differently by educators in a variety of content areas. For example, physical education teachers have used class time to have their students move more instead of telling them how to move. Cooking teachers have created videos that show students how to prepare a food so that in-class time is spent preparing the foods. Art teachers have created videos about how to sculpt so that class time is used sculpting. The key is to rethink and reimagine what class time should look like.
Corporate training
The flipped learning model is now moving into the corporate sector. We have had the opportunity to work with several organizations that are rethinking corporate training and how to spend class time.
For example, some experts in the nuclear power industry are reconsidering how they train nuclear plant operators. Currently, training consists of classroom instructional time followed by hands-on training in the operation of equipment.
If these nuclear trainers move to a flipped learning model, they can replace the class instructional time with online instructional modules—with embedded video—to be viewed and completed prior to showing up for the training session. The trainers can then use the face-to-face time to have the students apply their learning by either using equipment or engaging in simulations.
If this industry moves forward with this model, there will be a need for them to bring in a professional video production company to prepare highly specific, high-quality videos for their training programs. There is a need for a robust assessment system to make sure the operators have mastered the content before practicing in the field.
Another interesting group exploring the flipped learning model is in the hair-care products field. One company is now rethinking how it trains salon stylists.
Historically, this company has conducted one-day workshops for stylists when a new product is rolled out. Currently, the morning is spent in a classroom with a trainer presenting a slide deck about the product, followed by a demonstration of how to apply the product to a model. The stylists practice applying the new product to a model in the afternoon. This company believes that having time for the stylists to work with additional models would be extremely helpful, but time restrictions prevent them from doing so.
The first time the stylists apply a new product, they are learning, and make many valuable mistakes. If the stylists had an opportunity to work on a second model, they could grow even more in their learning while still under the supervision of an expert.
Thus this company tentatively plans to create instructional videos that the stylists view prior to the training event. The session would then start with a brief question-and-answer period, after which the stylists would get right to working on the models with the expert trainers there to help.
This does not diminish the need for expert teachers or trainers. In fact, experts are even more essential in a flipped learning setting because so much individualized attention is given to the learners. However, the role of the trainer changes from that of a presenter of content to a coach who is developing the talents of her pupils.
A third group considering the flipped approach is the Professional Convention Management Association, a professional organization for conference planners. During conference sessions, too many presenters just stand up, show a slide deck, and talk at their audience. These sessions could be much more engaging and interesting.
One problem is that many conference attendees decide which session to attend just prior to the session. So if there is neither time for, nor expectation of, any preteaching to occur, could a conference presenter expect participants to do any previewing of session content?
The organization determined that it would be helpful for conference session presenters to make a short, one-minute video that explained what would be presented during the session. That would help conference participants make better decisions about which sessions they should or should not attend.
Another conclusion from the group was that one of the best uses of face-to-face time at conferences is having more time for networking, which typically is a major benefit of attending these events. Many of these convention planners plan to build in more time with the express intention of curating opportunities for convention attendees to network with one another.
Technology training
All organizations use some form of technology that requires training employees on its use. A nurse recently relocated and went through orientation at a hospital to learn its digital charting systems. The training session consisted of an instructor who stood up at a lectern and showed the new nurses how to access the resources. The nurse concluded that this time of direct instruction could have been done asynchronously through a flipped learning model, and more time could have been devoted to using the system.
Schools and organizations have used the flipped learning method when training staff on how to use new software tools that a school is using. If a staff is concerned about a new email system that will be rolled out, flip the training and the staff will be able to learn the new system on their own time, at their own pace.
A new trend
The flipped learning instructional model is growing in popularity throughout the world. It has especially taken root in kindergarten through college classrooms, but corporate trainers are beginning to consider and embrace this model.
Many people who hear about flipped learning, say that "it just makes sense." Does it make sense in your setting? Do you see how implementing flipped learning could maximize training time in your organization? Do you see how you can be more efficient and your employees could learn more effectively? Consider the flipped learning model to help maximize the time trainers have with learners.
---
Challenges
One of the most common questions about flipped learning is "What do I do if my students show up to class and have not viewed the assigned content?" An effective method to ensure that adult learners are prepared is to design a system that prevents the learner from scheduling the face-to-face session until after he has completed the pretraining session. In addition to preventing individuals from arriving for training unprepared, a system of filtering out unmotivated learners is established.
Learning Materials
We often talk about the use of video as an instructional tool, but realize that much of the dialogue about flipped learning has been about videos. One of the big mistakes we made when we pioneered this model is that we focused too much on video. We now like to use the term "learning object" when we talk about the flipped classroom. A learning object can include videos, but it also can be resources such as online simulations, books, and periodicals.
In a recent post, I discussed some issues that organizational branding introduces to course design. In today's post we'll review a few of the visual design issues I often see in some of the elearning courses I review.
Below is a demo course slide that represents a few common design issues. Look over the interactive slide and we'll review it below.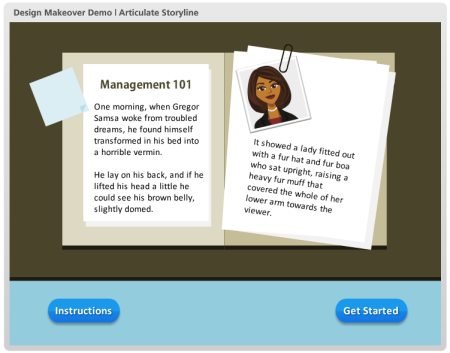 Click here to view the interactive example.
Following are a few things that stood out to me and some ideas on how to fix them.
Elements Should Follow a Consistent Design
The first thing you'll notice about this example is that the course has a flat visual design. However, the buttons I added use the default gradient and shadowing that comes out of the box. Normally, contrast is a great way to draw attention to the onscreen information. Having a contrasting button is good. But in this case, it probably makes sense to go with the flat design of the course rather than the default buttons.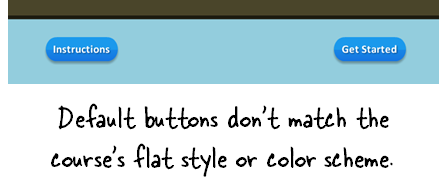 My fix would be to drop the default button settings and create a flat button that matches the course design. Also use a matching color scheme. Rounding the button works since it is a button and you do want it to stand out. I'd go with a softer rounded edge rather than the pill shape.
Not All Onscreen Objects Are Equal
You'll notice that the two buttons are equal in prominence. However, which button do you want the learner to click? My guess is that it's not the "Instructions" button.
Seems to me that "Getting Started" is key. That's what I want the person to do. The instruction button is important and exists for a reason, but give it less prominence.
An easy solution is to add the instructions to the top tool bar. That makes them available to the person who needs them, but doesn't make them prominent.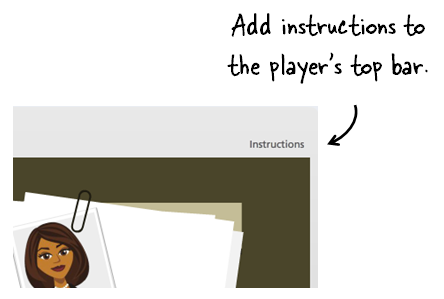 Or you can replace the button with a simple text link in the instructions to get started.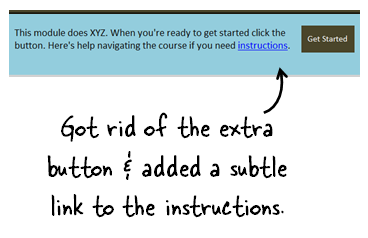 Either way, you give less prominence to the "Instructions" button and place more focus on the "Get Started" button.
How are You Revealing More Information?
Hover effects are great for elearning courses. They expand the screen's real estate since the information is not available until the person activates the hover. Thus you don't need to reserve space for that information on the main screen.
In this demo there are a few issues with the hover effect:
Do you need instructions when the instructions are so obvious? If the button says "Get Started" I probably don't need an additional box that states that the button is for getting started. It's redundant and seems like a waste of time and effort.
Assuming the call outs are necessary, don't use the defaults. Instead, have them match the course's visual design.
The call outs are different sizes, the tails are different, and the alignment is off. That needs to be fixed. They'll look better and more polished if the alignment and sizing is consistent.
One of the callouts overlaps one of the other buttons. This is probably fine. But as a general rule, I try not to block other interactive objects on the screen if I don't have to. Just something to consider.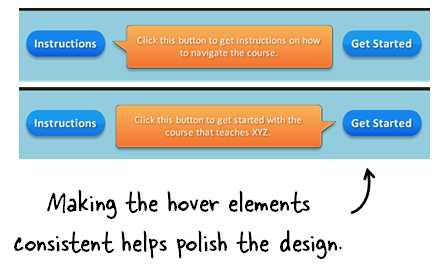 A simple solution to some of these hover elements is to create a hover dock. This is a place on the slide, where all of the mouseover information is revealed. This way you ensure consistency and don't have to deal with the box size, colors, or shapes.
In the image above, the space between the buttons could be used as an area to reveal information. Since this is a clean space, you could get rid of the call out boxes altogether. This lightens the design and offers more white space.

If you did want to have a call out, then do something like the image below were the call out is a bit more subtle, matches the design, and is connected to the button.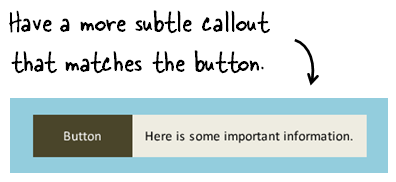 Here's a made over demo, where I show a few different ways to modify the slides.
These types of issues are common to many of the courses I review. The good thing is that they're really simple to fix. The key is that your design is intentional and that by fixing these simple issues you present something more polished and professional. This is really important if you have limited graphic design experience and have to do all that work by yourself.
The other point I'll make is that a lot of this is subjective. Do what you feel works best, but be consistent in what you do.
How would approach some of these design issues?
BLOG CREDITS : Post written by Tom Kuhlmann